Bont Helix Review – Cycling Shoes That Fit Perfectly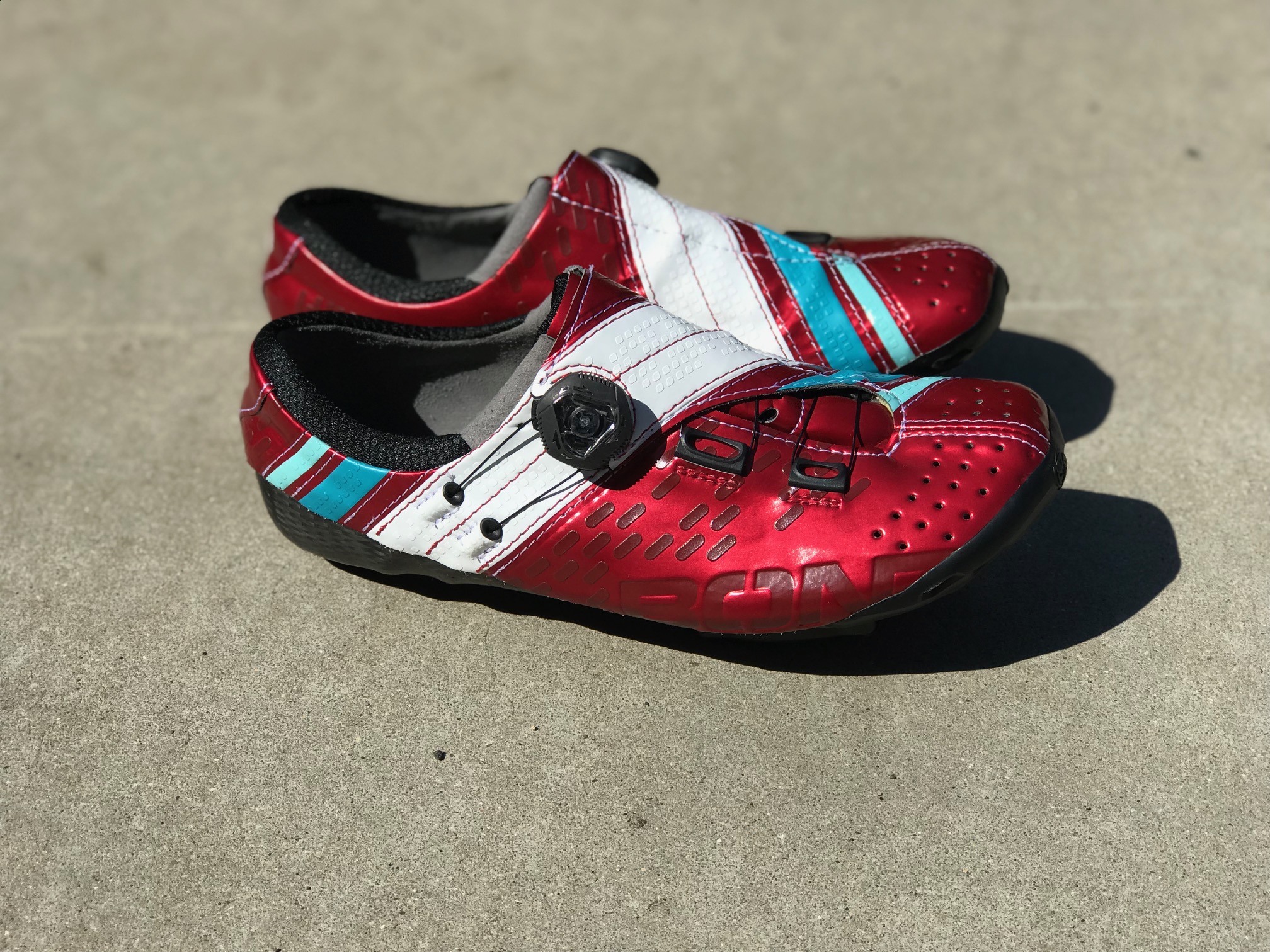 How many Boa dials does it take to get you the perfectly fit cycling shoe? Well, the answer is as many as Bont feels is necessary. In this case, just one. But it's not just the ultra-strategic Boa dial, it's the fully wrapped cable wiring system. Turn the dial one click–feel the fit adjust all around your foot.
Sweet.
BONT HELIX CYCLING SHOE REVIEW
So what's so new and different about these Bont's? Well, we've reviewed Bont cycling shoes in the past and have always been impressed with their customizable heat-treatment process. Meaning, you literally stick these shoes in your oven, heat them til the carbon becomes malleable, and shape them around your feet (those aren't the actual directions–make sure to follow Bont's instructions on how to properly heat mold your shoes).
But Bont took the custom fit a bit further by adding an integrated cable wiring system that actually wraps all the way around the shoe and through the carbon chassis. In other words, the Boa dial will adjust the cable fully around your foot. Racers take note.
TECH SPECS
Weight: 226 grams (size 41, according to our scale)
Availability: Now
Price: $399
Colorways: shiny red/white, metallic blue/white, black/gold, black/white, and white/charcoal
Upper Material: Duralite Outer Skin
Stack Height: 3.6mm
Carbon: Unidirectional Monocoque Chassis
Tested: Size 41, Wide, Shiny Red/White (a very sweet color that matches well with a red/black kit)
Built for maximizing the strength to weight ratio of the shoe, the Bont Helix is ultra light and won't give you that block-footed feeling of heavier shoes. Even when your legs are tired, these shoes still feel light and fast. Definitely stiff and hard-soled for the ultimate in power transfer.
Of course, key to the aesthetics of the overall shoe, the unidirectional carbon fiber has a pretty cool matte finish and wave points (my own, unofficial, technical term) under the arch that not only reinforces high stress areas, but also adds a pretty awesome look to the shoe as a whole.
The upper is made of an outer leather that is layered with Bont's own proprietary material to keep the upper from stretching. Similar in strength to Kevlar (yes, Kevlar), it's stitched and bonded to the liner–meaning it's there and it's staying there. This added layer means that the upper doesn't leak watts.
Certainly, the construction of Bont's Helix shoe is rock-solid and perfect for riders who want every gram of energy transferred directly into the pedals. With an upper that stays put, but still feels supple and comfortable, these shoes deliver in every way.
BONT HELIX REVIEW – THE VERDICT
These shoes really are top-shelf worthy, and I'm not ashamed to sing Bont's praises here. But I did have to do a little work to get them to fit like perfection. I'm not generally a hard-soled kinda rider, and my first ride wearing the Helix shoes did not go so well. I had some heel rub, and developed numbness in my left foot several miles in (followed by my right foot a few miles later).
But, knowing how my other Bont shoes fit so well, I went back to the oven. Two more heat treats later, and I rounded out a few areas along the arch, set the heels in perfectly, and smoothed out a hot spot.
Overall, my final bit of comfort adjustment did involve adding a light and thin insole; though, wearing a nicely padded sock also did the same trick, but I'm generally a thin sock kinda cyclist. If you're not used to hard-soled carbon shoes, you may find a few adjustments necessary as well.
Yes, I know the added insole somewhat defeated the purpose of the closed cell memory foam padding that ensures it won't retain moisture from sweat or wet conditions (ie it stays light and keeps the shoe's durability from breaking down). But the upside for me was a perfectly cushioned, perfectly dialed, perfectly competitive cycling shoe.
And that's what sets the Helix apart. Once I molded the chassis to fit me perfectly, the innovative cable wiring system really spoke to me. One click forward or back and the whole shoe adjusts–even the shoe's volume. It's pretty darn fool-proof.
A NOTE ON THE FIT
Cyclists with wider feet will want to take note as these were hands-down the widest shoe I've ever tested. Plenty of wiggle room in the toe box, for sure. As a wide-footed rider, I think I may have just hit shoe nirvana.
Aside from going with a wide-width option, I also sized up from my usual EU 40 to a 41. You'll definitely want to check out the sizing guide before purchasing these shoes to make sure you're not ordering a pair that's too short.
So, yes, the Bont Helix is one of the sweetest pairs of shoes I've ever tested. Definitely worth the $399 price tag if you're serious about performance without sacrificing comfort. Very light and very fast, the Helix holds its own.
Get more information at www.bontcycling.com
The post Bont Helix Review – Cycling Shoes That Fit Perfectly appeared first on SLO Cyclist | An Online Road Bicycling Magazine.
Go to Homepage
Gore Wear C7 Shakedry Viz Review – Why This Rain and Wind Proof, Breathable Cycling Jacket Hits Every Mark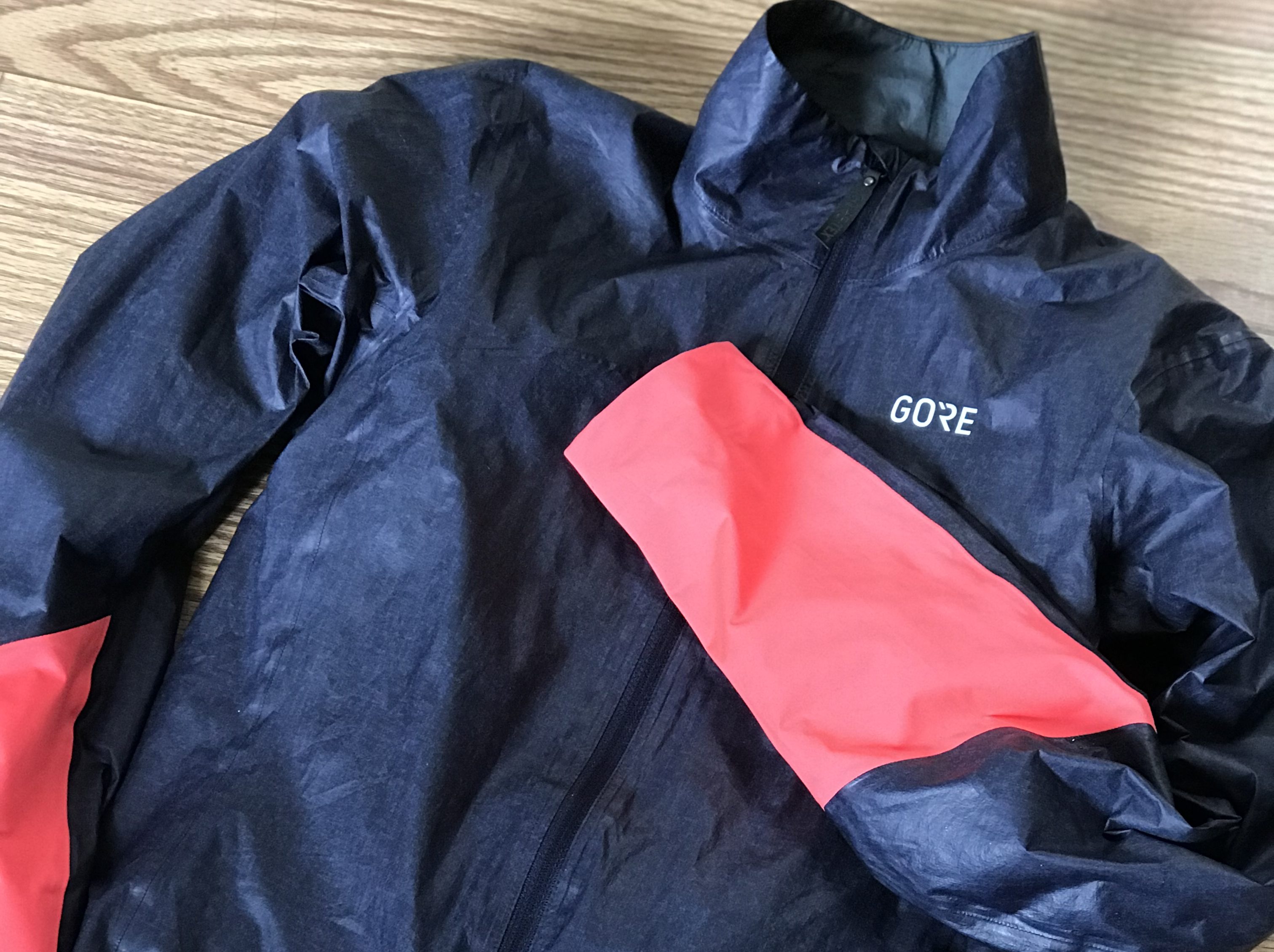 Over here in our the neck of the states, skies wait for months on end to rain, and then decide to pour out all at once over a few weeks. We're currently in that storm cycle, so the timing couldn't be better that we started testing Gore Wear's (aka Gore-Tex) new Gore C7 Shakedry Viz Cycling Jacket.
While the wind and rain and fog leaves our roads cold and sunless, my small ray of sunshine remains the Shakedry jacket. It almost makes working out in the rain enjoyable–keeping my core completely free from infiltrating droplets.
If there ever was a product that lives up to its claims, the Gore C7 Shakedry is it. This jacket is like nothing I've ever tested. Super compact and ultra lightweight, it's one of the coolest products around. And all of the claims they make about its waterproof ratings are true. Not a drop of water gets inside this jacket, yet it still maintains its breathability.
GORE C7 SHAKEDRY VIZ GORE WEAR JACKET REVIEW
TECH SPECS
Price: $279
Version Tested: Women's Gore Wear C7 Shakedry Viz
Weight: 108 grams by our scale
Sizes: XS-XL
Colors: Storm Blue/Lumi Orange, and Black/Neon Yellow
Shakedry shells are also available in several other iterations for men and women, with a Shakedry Stretch version available later this month. Get the full line info at gorewear.com
WHAT SETS THE GORE C7 SHAKEDRY VIZ APART
Perhaps the most unique thing about the Gore Wear C7 shell is its material. As thin as an outer shell gets, this jacket is permanently waterproof and surprisingly durable. When the rain starts pouring down on you, droplets bead up all over the outside of this jacket and tend to stay put. In name-like fashion, shake it quickly once or twice, and it's completely dry again. A feature that means your jersey pocket won't get soaked when you decide to stow your C7.
Genius.
Inside the jacket has flat seams that are almost imperceptible when it's on. And a crazy awesome plus is that I found I couldn't stain the main fabric–mud, grease, road grit just wiped off (not tested on the hi-viz fabric). But the jacket is also machine washable, though I'm not sure that using our go-to grease remover would jive with the high-tech construction of the C7. Be sure to check with the manufacturer before using any detergents or additives with your wash.
Beyond simply being waterproof, I found this jacket to also make an excellent windbreaker, which was fantastic for those chilly days out on our windy roads. Adding an extra checkmark to the "all-around versatility column" of the C7's list of can-do's. Rated for temps as low as 41 degrees, a baselayer and long-sleeved jersey kept me pretty warm on even our coldest rainy days here.
At the wrists, a simple stretch on the inside of the cuff keeps water out. Plus it makes for an easy slide-on over gloves. The orange detailing at the forearms makes for a cool look that is totally pro, even for a high-vis jacket. No fear of looking stupid here.
Of course, the biggest detractor to the shell is its $279 MSRP price tag that could be a budget breaker for many cyclists.
ON THE FIT
I'm normally a Medium, but I tested this in a women's large–because I like to have a little extra room in jackets in case I want to layer. While I found it fairly roomy in the shoulders and upper body, it did fit tighter around the hips. It did tend to ride up a bit instead of sitting low across the hips as I'm used to. Of course, winter hibernation most likely had something to do with the ill-fit for me. As spring training and racing wears on, I find the jacket fits better and better.
Labeled by Gore Wear as a "slim fit," I'd say you should definitely size up if you're looking for roominess–especially if you consider yourself to have an hourglass figure. Since I can't comment on the men's fit, you'll definitely want to check the sizing chart carefully before ordering.
WEIGHT, FEATURES, AND OTHER FACTORS
Weighing in at a feathery 108 grams, this is the lightest shell I've ever worn. The ultra-thin size of the jacket means that stuffing it into jersey pocket when you get too warm is super simple, and you can ride around without it feeling like it's adding too much bulk.
A single, right-side, zippered pocket at the back, is great for storing an extra energy bar or other accessory. It was even big enough to carry my iPhone 7+. The main zipper features a long, grippy tab that is easy to zip and unzip, even in full-fingered gloves. And a full neck collar means that none of that dumb, chilly air gets in. Pretty sweet.
THE VERDICT
Overall, I am thoroughly impressed with how well the Gore Wear C7 Shakedry Viz Jacket stood up to my tests. At first, it seems impossible that such a thin and slick shell could pack such a powerful punch. But it keeps you warm without compromising breathability. It keeps you dry without effort or leaking. And it keeps you visible without ultra-bright ovations. This is a cool jacket.
Grab more info at goreapparel.com
The post Gore Wear C7 Shakedry Viz Review – Why This Rain and Wind Proof, Breathable Cycling Jacket Hits Every Mark appeared first on SLO Cyclist | An Online Road Bicycling Magazine.
Go to Homepage