European mountain bike holiday destinations
When it comes to riding bikes we all have our own reasons for doing it, be it the freedom of going out into the woods, to the adrenaline of descending steep and technical terrain or catching those air miles at the local bike park. One of the reasons that we can all agree on however, is because it is fun and no matter what mood you start your ride in, you're almost guaranteed to finish with a smile on your face. What's better than combining time on two wheels with a mountain bike holiday! Trouble is, with so much choice it's hard to know where to start! So, to help you out, we've teamed up with MTB Beds to put together a quick list of European mountain biking destinations you need to add to your wish list.
Morzine – France
Known by many as a seriously awesome ski resort, Morzine doesn't go to sleep in the summer months. Situated in the French Alps just an hour from Geneva airport, Morzine is a buzzing mountain town that has become the hub of Europe's biggest bike park, The Portes Du Soleil (PDS).The PDS is a combination of 5 bike parks; Morzine, Les Gets, Super Morzine/Avoriaz, Chatel and Champery-Morgins all connected by a chairlift network to allow maximum shredding on your holiday. With all these trails, and such a stunning landscape, it's easy to see how it's become a leading European mountain biking destination.
The areas stunning trails attract many of the fastest downhill and enduro racers as a base between races but don't let this fool you, Morzine and the surrounding bike parks have a huge variety of trails for amateurs and professionals alike. There is an excellent trail grading system to ensure you can ride the trails that suit your ability and mark your progression throughout the week.
For many, riding chairlifts and shredding the bike parks in Morzine is enough. But for those with a flair for adventure and who don't mind some pedalling, the scope for trails is massive. MTB Beds offer brilliant self-catered and catered stays in the centre of town, with options for day trips across to Pila and La Thuile in the Aosta valley or Samoen at the bottom of the valley.
If the riding ever gets too much there is an abundance of outdoor activities to try your hand at, from rock climbing to white water rafting; so there is no danger of getting bored.
Finale Ligure – Italy
When people think of holidays they often picture a sandy beach with a beer in hand overlooking the sea. For a mountain biker the dream is of dusty trails and epic descents on their bike, but what if you could have both? Finale Ligure, a small town on the Italian Riviera, perfectly embodies all of these dreams to make it the perfect holiday destination for cyclists and sun-seekers alike. On top of the great weather and proximity to the sea, Finale also plays home to the Enduro World Series and some of the best trails in the world, and so makes an amazing European mountain biking destination.
With warm weather in bountiful supply, the best time to visit is either Spring or Autumn. The heat is bearable and the sea is beautifully warm. Imagine staying in a fully catered chalet just 10 metres from the beach on the doorstep of world-class trails? With an already booming trails network, it would be easy for the guides and drivers to sit back and reap the rewards from these trails. However, their investment in not only maintaining and preserving the existing trails, but scoping out new areas and pushing the expansion, means Finale Ligure is a destination here to stay.
The iconic town square is an ideal place to end your days riding, and relax overlooking the beach and the mediterranean sea. Cafe San Pedro is a rider favourite, providing a great atmosphere but also a great snack selection to fill your stomach after a big day on the hills.
Finale Ligure has a stunning history dating back to the middle ages which you can experience visiting the beautiful Finalborgo town just behind Finale's town centre. Some beautiful restaurants and shops fill the cobbled streets and offers the perfect way to spend a down day during your stay.
Madeira Island – Portugal
Madeira, a small Portuguese island situated just off the northwest coast of Africa known for its "Madeiran" wine and cake. Madeira is an archipelago featuring 4 unique islands, each with vastly different terrain. A tropical climate and stunning views put Madeira on the map when it featured in the 2017 Enduro World Series and showed off not only a wide range of trails but also a huge variety of trail types and features. With the highest peak reaching 1862m it's easy to see why mountain biking has flourished with many of the trails starting way above the clouds.
Madeira benefits from it's warm climate and relatively consistent weather allowing riders to explore the trails all year round. Although there are not bike specific chairlifts in the area, there are plenty of uplift and guiding companies such as freeride Madeira and Bike Bus Madeira.
Although many of the trails in Madeira are exclusively pedal accessed, lending itself to the enduro rider, Downhill Pro's and videographers have flocked to the island with Loic Bruni's Gamble segment and Brendan Fairclough's Deathgrip movie producing some of the best riding footage online at the moment.
Planning a mountain bike holiday? Don't forget, our mountain bike holiday insurance will cover the costs of emergency medical care (including mountain rescue), and our mountain bike insurance will cover your equipment for damage and theft.
Fort William – Scotland
You don't have to leave the UK to get your fill of amazing trails. Scotland is an untapped goldmine of trails and adventures kept quiet by the hard working trail builders who leave an artist's impression on the stunning valleys. Starting at the Borders, Ae Forest & Innerleithen have featured frequently in the National Downhill series and more recently the EWS Continental series. These forestry commissioned trails have a brilliant variety of trails to suit everything from your weekend warrior to a hardened racer. Wigwam holidays provide a unique holiday option from Glamping pods to Wigwam tents just a couple of minutes from the Innerleithen trails.
Jumping further north to the home of a certain Monster and we have Fort William. Needing little introduction, Fort Bill has been on the world cup scene since many of us started riding. Renowned for being one of the most physical races of the year, Fort William is one of the few places in the world where a downhill bike is still a clear favourite. Although there are not many official trails, if you are willing to adventure a bit there are some incredible trails to be found off the new black trail "Top Chief". Fort William also benefits from a full gondola lift allowing you to smash out as many laps as your body will let you.
Just a short drive from Fort William is another stunning Forestry commission centre, Laggan Wolftrax. With over 20 Miles of bike specific trails, and about the same again in unofficial trails, Laggan has been home to the Scottish Enduro series toughest races. It isn't always sunny in Scotland, but with trails like these, does it need to be?
The Aosta Valley – Italy
The Aosta valley begins on the Italian side of Mt Blanc with it's capital Aosta situated at the based of the Valley. Founded in 25 bc the town's history combined with a vibrant atmosphere makes this the perfect base for a week or riding.
Pila is possibly the best-known side of the valley with its unique "moon dust" and Iconic switchbacks. Although mostly dubbed a downhillers paradise, if you are willing to swap travel for a dropper and gears Pila has an incredible ridgeline trail that takes you to the bottom of the Valley in Pila through the Desarpa zone.
Another well known cluster of trails in the Aosta Valley is la Thuile, playing host to the EWS twice these trails mean business. Gaining a 5 star technicality rating from the EWS, these trails are not for the faint hearted. A swift chairlift allows you to maximise your descents without the pedalling.
Venturing slightly off the beaten track and high into the mountains behind the Aosta town you can find a mass of untouched single track descents lasting up to an hour top to bottom with a jaw dropping view the whole way down. Using a shuttle van to access these trails, and a bit of pedal assistance, you can find yourself completely alone overlooking the historic town ready to descend to the valley base. To find out more about this epic destination check out the MTB Beds holiday package.
Planning a mountain bike holiday? Don't forget, our mountain bike holiday insurance will cover the costs of emergency medical care (including mountain rescue), and our mountain bike insurance will cover your equipment for damage and theft.
The post European mountain bike holiday destinations appeared first on Yellow Jersey.
Go to Homepage
One Voice: the California Mountain Biking Coalition
Last Thanksgiving the sport of mountain biking celebrated what was as close to its birthday as we might find. A newspaper story on the first time the Appetite Seminar that climbed Mount Tamalpais some 40 years was the first occasion in print to use the term "mountain biking." In all…
Go to Homepage
Is cycling bad for my oral health?
After a glorious summer on the pedals and with the temperature dropping ever so slightly I have found myself recently, nursing a dull ache coming from my chops. Is cycling bad for my oral health? Is my bike to blame?
Sports drinks, gels and bars are bad for your teeth. This finding, from research just published in the British Dental Journal, is hardly surprising.
Indeed, many cycling enthusiasts – even those that take the time to bake a home-made banana loaf or pilfer their wife's carefully created energy balls – will likely take more interest in caring for their teeth than the population at large.
Sugary stuff is pretty hard to avoid. But we can sleep easy (once the lid is replaced on the tube), safe in the knowledge that those pre, during or post workout energy boosts have been safely brushed away.
Or not
"Elite athletes have high rates of oral disease despite brushing their teeth more frequently than most people," the UCL scientists found.
Of the 352 Olympic and professional athletes in 11 sports, including cycling, 94% said they brushed their teeth at least twice a day, and 44% regularly cleaned between their teeth (flossing). This is far higher than the general population: 75% for twice-daily brushing and 21% for flossing.
I don't know anyone who flosses, so maybe that's a good place to start. But for those who are already doing that – as well as brushing, going to the dentist every 6 months, not smoking and eating healthily – the findings are a bit of a kick in the teeth.
Dr Julie Gallagher from the UCL Eastman Dental Institute Centre for Oral Health and Performance said it's the gels, bars and drinks that are the issue.
"The sugar in these products increases the risk of tooth decay and the acidity of them increases the risk of erosion. This could be contributing to the high levels of tooth decay and acid erosion we saw during the dental check-ups."
Now, these are 'elite athletes'. As such, they may well be quaffing more sports drinks than your average Joe, or David. However, the fact they are seemingly doing all they can to protect their teeth and gums – and still have poor oral health must be hard to take.
Amongst those athletes, the researchers found:
nearly half (49.1%) had untreated tooth decay
the large majority showed early signs of gum inflammation
almost a third (32%) reported that their oral health had a negative impact on their training and performance.
So now they're looking at introducing more hygiene habits – like additional fluoride use from mouthwash, more frequent dental visits and reducing their intake of sports drinks – to help the professional cyclists, runners, swimmers et al improve their gnashers. The results aren't out yet, so what can you do?
Professor Damien Walmsley, scientific advisor at the British Dental Association, had this advice for readers of The Draft:
"Competitive sport requires considerable energy to beat the competition – but quenching your thirst by sipping on energy drinks for long periods amounts to constantly bathing your teeth in sugar. The sugar-free varieties are just as damaging, as these drinks are also acidic which over time can strip the enamel of your teeth. This erosion makes teeth vulnerable to tooth decay.
"I'd advise people to steer clear of 'energy drinks'. Drink plenty of water to stay hydrated, and perhaps consider more complex carbohydrates to sustain energy levels."
For us mere mortals:
Start with a decent bowl of porridge before that long Saturday ride, providing slow release energy (maybe go crazy and add peanut butter – though be warned, it's claggy so you'll want to brush before leaving the house).
Keep hydrated, with water, which will also stop you getting 'dry mouth' (saliva helps protect your teeth). Then think about balancing what you need. If you are doing a session after work, think about the fuel you'll need in advance, so you can go for the complex carbs rather than the last minute gel.
On longer rides, there's a fair chance you could be over-fuelling, especially at the coffee shop stop. I'm also not sure where the science for the recommended intakes for energy gels comes from. One every 25-45 minutes – really? On whose advice: the marketing team? Can anyone carry that many gels on an 8-hour ride?
And for the commuters: you don't need an energy gel on the way from Tooting to Westminster – however hard you ride.
Yellow Jersey Cycle Insurance policies can cover you while you are training, travelling and racing and offers up to £500 emergency physio and dental treatment as standard – click here to get your free quote.
The post Is cycling bad for my oral health? appeared first on Yellow Jersey.
Go to Homepage
Get Into… Mountain Biking
There's something about the woods and mountains that attract mountain bikers of all types. From lycra-clad XC whippets to enduro racing machines and downhill rippers there's a discipline of mountain biking for everyone. Even though they all fall under the mountain biking umbrella, these three disciplines are all very different. Here's everything you need to know to get into mountain biking.
Cross-Country (XC)
Cross-country, or XC, is the discipline most closely related to road cycling and is often used as an alternative form of winter training. XC riding is all about the climbs, times and pushing yourself physically. With longer rides of 30-50km, which may not sound like much to road cyclists but trust us, it's a lot, XC is one for the endurance athletes.
In mountain biking terms, the trails tend to be a good mix of steep ramps and steady yet technical descents. Expect to find roots, rock gardens and punchy climbs that require physical fitness and supreme bike handling skills.
View this post on Instagram
XC equipment
XC bikes generally have 100mm of front suspension and no rear suspension. These are the most efficient bikes to take on the long climbs and flat sections that require a lot of pedalling. Some trails can be steeper and have more challenging downhill sections. On these trails, you'll see XC riders on bikes with up to 120mm front travel and something similar for rear travel.
XC bike geometry is heavily influenced by road bikes. Expect to find steep head angles and near upright seat angles designed to keep you in the ideal position for climbing. Again, like road bikes, high-end XC bikes can be made from carbon fibre to keep the weight down, which is a high priority in the world of XC. The alternative is aluminium which might be cheaper but is nevertheless a resilient and efficient frame material.
If you're a road cyclist looking to get into XC riding, there's some good news: almost all of your current gear can be used for XC. Cross-country trails are full of lycra wearing riders spinning their way up the mountainside. Crashes are to be expected when beginning though, so make sure you're ok with whatever gear you're wearing hitting the dirt.
Speaking of hitting the dirt, helmets are absolutely essential in mountain biking, and another thing that XC borrows from its tarmac riding cousin is the helmet choice. Ventilation and keeping the weight down are some of the most important factors here. Experienced XC riders ride without kneepads as they will rarely crash, but it might be worth investing in some lightweight armour if you're new to the sport. A good pair of kneepads should provide good protection while still allowing you to pedal freely.
Enduro
Enduro encompasses a number of disciplines, by and large, a combination of trail and all-mountain riding. In a nutshell, enduro riders are mountain bikers who slog their way to the top of a trail to race down in the most fun or fastest way possible. You'll see groups of enduro riders chatting as they plod their way up gravel road climbs saving their energy and competitiveness for the downhill. It is a great choice for riders looking for a social and exhilarating ride in the woods.
Enduro trails are bigger than XC trails in every regard. Root sections are gnarlier and more blown out, while rock gardens try their best to tear apart your tires. You'll also find more flow trails in enduro riding. These trails are smoother and feature jumps, drops, berms and pump track-like sections.
Enduro equipment
Almost every enduro rider uses a full-suspension bike. A typical setup will have 140mm of front and rear travel, which makes them lively and responsive. On the other end of the spectrum are the monster bikes with 180mm travel front and rear. These bikes are made to plough through any terrain. Point one of these bikes downhill, hang off the back and let it do the dirty work for you.
Enduro bikes differ from XC bikes in that they have a slacker geometry, striking a balance between being good at climbing and very capable on the descents. Bikes with shorter travel tend to be better at going up than those with 180mm of travel.
Stylistically, XC riders and enduro riders are totally different beasts. Nobody hitting jumps on a double black jump trail will be wearing lycra. Instead, these riders prefer a technical t-shirt rather than a jersey and wear knee-length shorts instead of bib shorts. Gloves are also usually worn to make sure you have a good grip on the handlebars when things get sweaty.
Enduro riders wear either full-face or open-face helmets depending on the ride they're on. Open-face helmets are much cooler than the full-face variety and are lighter as well, though the latter offer much more protection which you'll be glad of if you ever end up going over the bars. If you plan on taking part in some enduro races you will most likely be required to wear a full-face helmet. The type of kneepads used is also up to the rider. Lightweight pads are best suited for trails with lots of climbing and more manageable downhills, while heavy-duty pads are best for the tougher trails, made from either a hard plastic shell or D30 which hardens upon impact.
Read our guide on the best mountain biking destinations in Europe here
Downhill (DH)
Downhill riders like to think of themselves as the rockstars of mountain biking. Instead of grinding out climbs they jump onto a chairlift or into a pickup truck and catch a ride to the top. To call DH riders cyclists is probably a bit of a push. These riders only need to take a few powerful pedal strokes and let gravity do the rest of the work.
Downhill trails can sometimes be hard to believe. It's a wonder they're rideable at all with their steep, technical routes that are near vertical in parts and flow trails with mandatory gap jumps that send riders through the air. But don't let this put you off; not all DH trails are extreme, there are plenty of options out there for beginners as well.
View this post on Instagram

Just can't wait to be back biking in the woods! @hunterpaull
DH equipment
Downhill bikes are made to go in one direction and one direction only: down! These bikes have 200mm of front and rear travel and feature triple-crown forks – the type that extend right up to the handlebars. Downhill bikes are ridden hard across rough terrain, that's why they have the thickest, stiffest forks on the market.
Downhill bikes also have the slackest geometry of all mountain bikes. They're designed for minimal pedalling and these bikes are actually most comfortable when on a downward angle. The seatposts are often slammed and out of the way to allow you to move your bodyweight backwards for better control.
View this post on Instagram

Trek Session 9.9 Works Edition | @tobycowley
Downhill riders wear similar gear to enduro riders but don't be surprised to see people in flannel shirts either. Since the hassle of pedalling is essentially removed, downhill riders prefer comfort and style over technical clothing.
When it comes to protection, however, technology becomes very important. Downhill riders go faster, jump higher and ride more difficult trails than any other discipline. This is why helmets and pads are of utmost importance. Downhill riders must wear full-face helmets, this is non-negotiable. The level of protection they give is unparalleled. All downhill riders also wear kneepads and goggles with some opting for elbow pads, body armour and a neck brace as well.
Now that you have all the info you need to know to get into mountain biking, it's time to hit the trails. Make sure you're covered for off-road riding in the UK and Europe with our Performance Bicycle Insurance, our policy for the enthusiastic cyclist.
The post Get Into… Mountain Biking appeared first on Yellow Jersey.
Go to Homepage
Hot weather cycling. Don't let heat spoil your ride.
Europe is in the midst of an unprecedented heatwave, just as many of you will be heading there on holiday, or to race.
It's crucial not to underestimate the effect high temperatures can have on your cycling. The average daily high in Mallorca last July was 34 degrees centigrade, and areas such as Andalucia in the South of Spain saw 39 degrees most days. This is more than enough to wipe out most of us, and there were days when the peak temperatures were even higher. For the next couple of weeks, temperatures across mainland Europe are set to exceed 40 degrees centigrade.
The current heatwave is likely to push temperatures in the UK up to 25 – 30 degrees. It's hardly doomsday weather, but more than enough to be dangerous if you are not used to cycling in it.
We look at how higher temperatures can effect your performance, the early warning signs of heat exhaustion, and how to keep yourself safe cycling in hot weather.
Heat and Heart Rate
Sports Physiologist Dr Garry Palmer spoke to us about the impact of temperature on our body's ability to do work, and how this affects heart rate.
His experiment looked at the effects of cooling while using an indoor trainer, but the results can be applied to a hot climate too, particularly while climbing when you don't have the cooling effect of speed.
As the temperature rises, your body begins sending more blood towards the surface of your skin to aid cooling. If you are exercising at the same time, your heart needs to work harder to continue supplying your muscles with blood. This all leads to 'greater cardiac stress', and if there is one thing we can all agree on, the higher your heart rate goes, the more it hurts.
The solution? A sensible person would tell you to slow down.
Dehydration
As hard as you try to prevent it, higher temperatures are going to dehydrate you more quickly than you can take that water back on. As little as 1% dehydration can impair your performance by as much as 5%, and sodium lost through sweat can be linked to muscle cramping during exercise.
You are going to start sweating the moment you leave your fancy air-conditioned hotel room, and as you continue throughout your ride, it's going to get more and more difficult to maintain your pace. When riding in hot climates, it's particularly important to drink enough water and sodium to offset dehydration as much as possible.
One top tip is to take two large bidons; one from the tap, and one out of the freezer. By the time the first bottle is empty, the second will be thawed meaning you have cool water the whole way round your ride.
Sunburn
It's stating the obvious really, but the only thing more ridiculous than a cyclist's tan lines is the outline of bibshorts and jersey in your crippling sunburn. Make sure you have a little tube of suncream in your saddlebag or back pocket, and top up as you go.
Heat Exhaustion
We're getting a little more serious now; heat exhaustion will seriously spoil your day if not your week.
If you aren't replacing your fluids quickly enough, dehydration can lead to a decrease in blood pressure and blood volume. The symptoms include extreme tiredness, dizziness and nausea. It's incredibly important to keep toped up with fluids and make a stop if you start to feel the signs of heat exhaustion, because if you leave it to long, you could find yourself facing…
Heatstroke
Your body is no longer able to cool itself, and your body temperature becomes dangerously high. In other words, you should already be on your way to hospital. Make sure everyone in the group you're riding with recognises the signs of heat exhaustion and heatstroke, and if riding alone, make sure you have someone to call if you get into trouble.
For more information on heat exhaustion and heatstroke, you can check out the NHS website.
Ultimately, as well as keeping topped up with water and sun cream, the best advice is not to go too hard.
I know it's a bit like your mum telling you to wear a scarf when it's cold, but you need to adapt your riding to your environment. Some of the newer Garmins are coming with thermometers which will add temperature data to Strava for you. You'll have bragging rights even if it was a slow burn when your friends notice you completed your climb at 35°C.
The post Hot weather cycling. Don't let heat spoil your ride. appeared first on Yellow Jersey.
Go to Homepage
Cycling in Switzerland: Explore Valais by Bike
Cycling in Switzerland is like paradise. Just picture riding through open roads, rolling meadows and the misty mountains of the Swiss Alps. Bet you can almost smell the fresh air and hear the cowbells ringing now.
Thanks to its extensive network, cycling in Switzerland is one of the best ways to explore this part of Europe. And tucked into the southwestern corner of the country, Valais beckons as a high-altitude playground for adventure seekers.
Before you pack your saddlebags, we've been working with Swiss Tourism to take a peek at the region's cycling highlights, from well-marked routes and dramatic climbs to legendary passes and alpine trails – all explorable on two wheels.

©Valais/Wallis Promotion – David Carlier
CYCLING ROUTES
Valais is full of options when it comes to cycling routes. Warm up with a leisure ride on the Rhone Route, winding its way through mountain scenery, crossing the palm-lined promenades of Lac Léman and the Lavaux vineyards, and ending at cosmopolitan Genève. The route is 320km long and covers contrasting landscapes. It runs mostly downhill, but from Brig to Geneva, the route is almost entirely flat and suitable for leisure cyclists.
Meanwhile, the Vineyard Trail stretches 82km from Martigny to Leuk with an energetic up and down on a sun-kissed southern slope. It takes you through the most uniform wine region of Valais, past small villages and historical municipalities such as Saillon. Valais is characterised by its soils and climatic zones, so along the three-hour ride, have a break in a winery and sample distinctive wines like Petite Arvine, Amigne, Cornalin and Humagne Rouge.

©Valais/Wallis Promotion – Pascal Gertschen
If you're up for a bigger challenge, which includes 8 ascents, you could test yourself on the Trophy of the Dams. From the village of Aproz, the road climbs towards the Nendaz mountain resort before whisking you into a small valley enclosed by forests until Siviez. The more adventurous should get ready for a bumpy finish. The last kilometres leading to the summit of Cleuson Dam, at more than 2,100 m of altitude, are unpaved. Take a bike that can handle well on a dirt road.
Between the Pennine and Lepontine Alps, Simplon Pass is also worth a visit. The grade is generally steady so you can admire the view of the Rhone Valley. Pedal through alpine meadows with the Wasenhorn and Monte Leone looming overhead. At the summit, stop off to refuel at the pass restaurant and take it all in.

©Valais/Wallis Promotion – Christian Pfammatter
For all routes, we recommend a bike in excellent working order, helmet, gloves and bell, clothing suitable for the weather (always carry a waterproof), food and drink.
RAMP UP THE DIFFICULTY
Want to crank up the difficulty? Valais has hosted three stages of the Tour de France with challenging mountain finishes.
The French cyclist Laurent Fignon triumphed at Crans-Montana in 1984. The Spaniard Alberto Contador came first in the Verbier stage in 2009. And the Russian racer Ilnur Zakarin won the Finhaut-Emosson stage with a spectacular finish at the Emosson Dam in 2016.
See how you measure up on the Tour de France routes with ascents to Verbier and Emosson and along the Crans-Montana sprint.
For a long-distance adventure, you could sign up for the Valais Cycling Tour. Designed by pro cyclist Steve Morabito, the 10-stage route stretches for 740 km over 29 major ascents.
MUST-SEES
Along with cycling routes, Valais presents many attractions to satisfy sightseers. The Aletsch Glacier, made up of 27 billion tons of ice, is the largest glacier in the Alps and part of the UNESCO World Heritage Site. Its easily accessible location makes it ideal for nature excursions, and you're likely to spot some of the rare animal and plant species that live in the area.
Likewise, the Matterhorn in Zermatt is another can't-miss destination. The Matterhorn is the famous mountain printed on Toblerone chocolate. On top of being one of the highest summits in the Alps, it's surrounded by 38 summits over 4,000m high, just the thing for cyclists looking to refine their skills.
Save room in your schedule for the Grande Dixence Dam, the highest gravity dam in the world at a height of 285m. We recommend touring the dam's interior, which you can visit on request.

©Valais/Wallis Promotion – Alban Mathieu
FOOD & DRINK
You're likely to work up an appetite during your Swiss cycling adventures, and Valais delights with a range of Gault & Millau-rated restaurants. Among the traditional local products are Raclette du Valais AOP, the quintessential Valais cheese with a recipe passed down from generations.
Pair it with robust wines bursting with mineral notes, alongside fresh local fruit such as apricots, rye bread, dried meats and rare spices. Fancy bringing some delicacies home? Just pop into one of the charming local shops peppered throughout the region.
GETTING AROUND
Getting around Valais is a breeze. With more than 100 cableways and countless bus and train routes offering bike transport, you can quickly get to where you want to go.
All in all, Valais has a variety of terrain, so don't hesitate to hire a bike. Road bikes, e-bikes, fat bikes and mountain bikes are available at sports shops across the region, together with high-quality equipment and good service.
ACCOMMODATION
When you're ready to call it a night, kick up your feet at a bike hotel close to the trails such as Hotel Matthiol. Across Switzerland, hotels have been working hard to improve their facilities for cyclists including a safe place to store your bike and a workshop for repairs.
You can hire a cycling guide to meet you at your hotel and help you find the best routes. You can also download itineraries online with GPX files and level of difficulties, length and duration.

©Valais/Wallis Promotion – Tamara Berger
GETTING THERE
By car, the A9 motorway is the main route leading to Valais. From the north, reach Valais via the Swiss capital and then hopping on the Lötschberg railway tunnel. Starting from the south, take the Simplon Pass or Simplon railway tunnel. From the west, drive via Lausanne. And from the east, via the Furka pass or Furka railway tunnel.
When travelling by air, international flights land in Geneva, Zurich, Basel and Bern. Public transportation links are excellent from there. Direct trains to Valais run from major Swiss cities, including Basel, Bern, Zurich and Geneva. Connections are guaranteed every 30 to 60 minutes, allowing you to transport your bike and easily reach different resorts.
Conveniently, the Easy Card offers 2, 3 or 5-day options and access to public transport from Lake Geneva to the Lötschental valley. In all, you can travel on more than 1.1km of routes at no extra cost. It comes with significant discounts, including 50% off Valais cable cars, certain chairlifts, over 50 activities and attractions, and free public transport from Saint-Ginolph to Blatten and Fafleralp.
Alternatively, the ErlebnisCard grants free travel on public transport and discounts on attractions and excursions. Pick yours up for 2, 3 or 5 days.
WHEN TO VISIT
The best time to go cycling in Switzerland is from May to October. Some of the pass routes only open in June, depending on snow conditions. Before heading out, double check your itinerary and road openings.
And don't stress if you can't make it this year. The 2020 Road Cycling World Championships will roll into Switzerland and parts of Valais. Particularly, the districts of Martigny, along with Aigle, will welcome the world's top cyclists.
PLAN YOUR TRIP
Ready to go cycling in Switzerland? Match Valais' cycling routes to your performance by visiting the Valais cycling website and save a few quid on these cycling offers.
Need cover while enjoying your travels? Cycle worry-free with our bicycle insurance and cycle travel insurance, available as short-term or annual policies.
The post Cycling in Switzerland: Explore Valais by Bike appeared first on Yellow Jersey.
Go to Homepage
The (Somewhat) Definitive Guide to Mountain Biking Disciplines
XC. Trail. All Mountain. Downhill. Enduro. Freeriding. Mountain biking has evolved into many different disciplines, each using its own kit, design and terrain. It can seem complicated at first, but don't fret – this handy guide breaks down what each version is all about.
CROSS COUNTRY (XC)
For those who like a mix of thrill and adventure, cross country is where you'll find it. It's the most common form of mountain biking, involving off-roading through a variety of terrain. Trails incorporate long climbs and flowing descents, and sometimes you'll come across more technical features like rock gardens. In the same run, you can move from open fields and paved parks to rough forest roads and snaking singletracks. But wherever XC takes you, you'll need the endurance to survive extended sessions in the saddle.
The discipline is more challenging when it gets competitive. Cross country racing is the only form of mountain biking in the Olympics. At these levels, swift riding and smooth handling are crucial, so XC bikes are the lightest, nimblest bikes on the trail. For starters, you may want to pick up a hardtail and then progress to a full suspension bike.
TRAIL RIDING
Trail riding is XC's more aggressive cousin. Although the two mountain biking disciplines are similar, this style focuses on rugged singletracks. Like cross country, trail riding covers a range of terrain, but it can present bigger obstacles. When hitting the ol' dusty trail, expect a challenging mix of climbing, descending and technical features.
As for the ride, these bikes sport strong wheels and tyres to take extra punishment. Ultra responsive breaks and wider handlebars give you control at short notice. If you have to choose, full suspension provides more comfort, but a hardtail will be more efficient at climbing.
ALL MOUNTAIN (AM)
100% pure mountain riding – this discipline entails overcoming extreme natural obstacles. AM trails get the adrenaline pumping with big jumps, daring drops and other challenges you'd expect from a mountain.
And that means you'll need a bike that can handle mountain-sized demands. A hardtail with a generous amount of travel (at least 6 inches) is a safe bet. We also recommend a lightweight frame, sturdy wheels and puncture-proof tyres to roll over any hurdle that comes your way. When going all mountain, extra armour is advised, including a more protective helmet, knee pads and elbow pads.
DOWNHILL
In downhill mountain biking, gravity reigns supreme. Riders will walk or drive up a trail or catch a ride to the top on a lift system. Then there's only one way to go. Unlike cross country trails that involve winding paths, downhill trails are designed to plummet riders straight down the mountain as fast as possible. The goal here is blazing speed, and you'll need lots of it when committing to steep descents, massive gaps and huge jumps.
Downhill bikes are built burly with chunkier tyres for extra grip and control. They feature full suspension setups with 7–9 inches of travel to glide over gnarly rocks and tree roots, along with fewer gears for added clearance. Before you drop in, you'd be wise to wear a full-face helmet, eye goggles, body plates and additional protection.
ENDURO
Of all the mountain biking disciplines, enduro is the most multifaceted, blending the physical endurance of XC, the steel nerves of downhill and the power to climb. And it all revolves around racing. In most events, there are 3–6 timed stages of combined climbing and descending, but some, like Ard Rock in Yorkshire, have even more. Neutral transfer stages must be completed within a time limit but are not part of accumulated time. Each race has its own rules and requires different skills, which always makes enduro a fun and inspiring mountain biking discipline.
In any case, enduro bikes can handle the most challenging range of terrain. They're usually full suspension and have long travel, allowing you to take bumps and jumps with confidence. Always wear a helmet with deep coverage and goggles, especially when racing or hitting high-speeds on Alpine descents.
FREERIDING
Freeriding is fast becoming one of the most popular mountain biking disciplines. It's closely related to downhill but highlights technical trail features and the art of tricks. Different types of trails emphasise challenging natural areas dotted with dirt jumps, ramps, ladders and beams.
As the name suggests, freeriding doesn't have too many rules. It's all about creativity, and riders show off different skills to flow from one obstacle to the next. Modern freeride bikes are like downhill bikes but are lighter and have slightly less suspension. The added stability alllows them to be ridden over technical sections with ease. Most have shorter wheelbases and other geometry tweaks to help you manoeuvre and perform stylish stunts.
There's much more to MTB than that, but we've covered a fair bit. Agree with our guide? Disagree? Either way, let us know how you like to ride.
And if you're up for an adventure, check out our picks of the best mountain bike holiday destinations in Europe.
Dont forget, with mountain biking, sometimes thrills come with spills. Our mountain bike policies offer coverage for accidental damage, even if it's from a crash, and theft from vehicles.
Learn more about our mountain bike insurance and mountain bike travel insurance.
The post The (Somewhat) Definitive Guide to Mountain Biking Disciplines appeared first on Yellow Jersey.
Go to Homepage
Why are so few women mountain biking?
Women's only cycling and triathlon camps are becoming increasingly popular, but one area where the gender bias is particularly apparent is mountain biking. It's a common assumption that more men than women ride MTB, but is this really the case? We've dug a little deeper to see what the data shows…
Firstly, popular media tend to over-emphasise the perceived danger in the sport, often portraying an ideology of 'hegemonic masculinity'. Don't worry, you've not accidentally clicked on a Gender Studies essay! This is just a fancy term that basically means that it legitimises men's dominance in the sport and justifies the fact that fewer women take part. It's a self-perpetuating problem.
So, it's no surprise that a 2010 survey by the IMBA (International Mountain Biking Association) showed that 60% of women believed that the perception of mountain biking as "hard-core" was deterring women from participating. Now obviously, women are not delicate little flowers that need to be protected, but given that studies repeatedly show that males dominate the field of mountain biking, a closer look can provide some interesting insights. Even here on UK soil, Scotland's National Forest Estate's data shows that 76% of their visitors who come to take part in mountain biking are male.
A recent study, "Why do you ride?: The characterization of mountain bikers" made some very interesting revelations:
Compared to just 20% of women, 40% of men indicated they were "advanced or pro riders".
Men also stated they had been riding for longer, often since childhood, than women (45% vs 28% respectively). This difference could explain why less women take it up if it is not a sport they are familiar with – not many of us enjoy the feeling of being out of our depth, or like we've started something too late.
Another interesting point is that men indicated that they enjoy the risk involved more than females, just as the popular media has encouraged.
Conversely, women said that mountain biking helped them to deal with mild mental health difficulties at a higher rate than men – perhaps this is down to men speaking less about their emotions in general at a societal level.
So, with men having ridden for longer and rating themselves at a higher ability level, it's easy to see why a mixed-gender camp could be an intimidating place for women to attempt to improve their skills. One place where they are trying to change this is MTB Beds. In an effort to introduce more women to mountain biking, the company runs an all female camp – Women, blow your limits. The camp is run by Finale Ligure EWS Challenger Champion, Sandra Boener who, in the words of MTB Beds, is "someone we knew could show us a thing or two on the bike." We caught up with Sandra to get her views on women in MTB and learn more about the camp.
How did you get into mountain biking in the first place?
That's quite a while ago now! I started riding cross-country in 2003 when a cycling club opened in my hometown.
If you did other types of cycling first, what do you enjoy about mountain biking compared to other kinds of cycling?
I never did other types of cycling apart road cycling which I used for training, but what I love is just being outside in nature. When you're on a mountain bike in the woods and the mountains, you just forget everything and can switch off.
Why should women come on your camp? What skills can they learn and how is it different from other holidays that are mixed for men and women?
They should come because the Finale Ligure trails and the lifestyle there is amazing. I can guarantee it will be a week full of fun riding and some really good food! The week won't be a proper skills camp, where we do a lot of technical training or that sort of thing – like the name suggests, we will blow our limits! I believe in action rather than theory as the best way to learn, so you can bet we'll do a lot of riding. You just have to get out there and do it, there's no point just talking about something or watching someone else doing it instead of you. For those who are a bit nervous, I'll of course be answering any questions and we'll stop and tackle tricky sections together, taking the time to look for the best line choices.
Riding with men can be lot of fun, but having just women in a group is, for some, a bit more relaxing and less stressful. We women also think differently about riding; sometimes we need more time to trust in ourselves and without the boys we can take the time we need.
What do you enjoy about coaching women specifically – is it any different to coaching men?
To be honest, this year will be my first coached camp. When I guide I am always open for questions and happy to help people to get better or to improve their riding skills. The difference between coaching men and women, in my eyes, comes down to patience. Obviously this is just my opinion and won't apply to everyone, but I tend to see that men trust in themselves and have a lot more self confidence than women. Women need more time, even when we know that we can do it. Men are happier to just give it a go without necessarily thinking about it as much.
What do you think puts more women off trying mountain biking?
Good question! I'm not really sure but maybe they are scared about the speed, the rocks, the crashes? All the dangerous things can happen when you do an extreme sport.
How has mountain biking changed for women since you started riding? What other changes would you like to see?
I see a lot more girls on bikes than a few years ago. There are more women-specific clothes and bikes to cater to the growing market, although whether this is what women actually want is another discussion altogether. As for the changes, I definitely want to see an end to sexualised adverts for bikes that use women – it's outdated, it's incredibly lazy and to be honest I think it's b*llsh*t. Women can ride just as well as men and you can sell your product just fine without sex – if not, you need to improve your product. You respect boys so why not the girls, too?
Who are your role models in the sport?
I don't have a proper role model. I'm impressed by the world cup racers who train hard for their goals and push themselves even harder to their limits during a race. I also love watching clips from other riders like Niki Whiles or Vero Sandler; they are not proper racers per se, but they definitely have amazing skills.
Where would be your dream destination to ride?
That's a tough decision… I know I definitely want to ride in Whistler. Its the most famous bike park in the world and from what I've seen and heard it seems like a bike park paradise. The same goes for New Zealand; the landscape and the tracks look great and there's so much to discover. It looks like a once-in-a-lifetime trip but I'm sure if I went once I would want to go back for more!
There are still spaces available on the camp so if you're tempted by the idea of giving it a try, visit the MTB beds website to learn more and secure your place.
Yellow Jersey bicycle insurance will cover your bicycle for mountain biking worldwide and our travel insurance is specifically tailored to look after you should you have an accident on a mountain biking holiday.
The post Why are so few women mountain biking? appeared first on Yellow Jersey.
Go to Homepage
A bike packing adventure in Chile: When the dust settles
Chile. The smell of freshly baked empanadas, washed down with Sauvignon Blanc. The taste of red dust, rinsed down with a cold Cerveza Austral. Listening to Calexico's 'Carried to Dust' in endless rotation, the perfect soundtrack for an adventure in a country that is not short of surprises.
The Atacama Desert and Pumalin National Park in Patagonia – two landscapes that couldn't be more different. Worlds apart, yet both embedded in one very thin country. It is the dust that connects them in my memories. Dust is what I remember when I think back to the end of last year, buying a cheap 24-speed Trek Marlin 6 mountain bike in Santiago and exploring a previously unknown part of the world for a number of weeks.
My journey takes me north of Santiago first, on a plane to Calama and then a short shuttle ride though the desert to San Pedro de Atacama. While Calama hosts the biggest copper mine in the world, San Pedro is the undisputed tourist hub of the Chilean Atacama Desert, the driest place on earth. With cold nights, crystal clear skies and stunning sunrises and sunsets it is hard to beat. Mixed with loads of places to eat and cheap hire bikes available on every corner, this is a dream for every off-road enthusiast, either for a few days or, as in my case, for a number of weeks.
Before I arrived in Chile I hadn't thought about taking my bike here, but for mountain biking I can only think of a handful places I have travelled to so far that can rival the small and cosy oasis in the middle of a fascinating lunar landscape. Imagine massive sand dunes, killer climbs, technical downhill trails and endless ridge rides. Almost everything here makes me stop with awe. And come back a second time. Sometimes a third and forth time.
Nearly every morning I get up early, wrap myself in my down jacket and follow my nose into another part of the desert. I am normally back for breakfast, as riding during the day is a serious challenge with temperatures in the upper twenties. Only in the late afternoon the conditions become bearable again. The best activity in between is to relax and read a book in a hammock in one of the many hostels in town, or to sit in the shade and sample the coffee, croissants and sandwiches at La Franchuteria, a French bakery in which I soon become a regular customer.
On most evenings I head out again, the experience of watching the sun setting over this surreal landscape is second to none. When the sun finally sinks it paints the rock formations into an array of warm colours while the sky changes from pink to purple and on to black. Stone and sand formations stick out like bizarre sculptures that appear from the massive valleys. Carved by wind and water, the landscape displays an impressive range of colour and texture, while the wind blows clouds of dust through this barren paradise.
Yet there's more to San Pedro than the bizarre landscapes of the Valle de la Luna, Valle de Marte or the Qubrada del Diablo. All of them make for amazing mountain biking, but the salt lakes in the south of the small town give you a unique chance to get some serious gravel miles in those legs, go swimming and spot flamingos along the way. The best time to visit the lakes is in the morning, as most visitors flock to them in the afternoon.
Laguna Cejar invites me for a swim in the salty water. The water is so salty that I float on the surface without any problems. A few kilometres further south Laguna Tebinquinche is surprisingly tranquil, far off the tourist track, with only a handful of people around. As their Landrover leaves, I am by myself.
But the most amazing experience of all is strapping gear and food on the bike, taking enough water with me and spending a night under the stars in the open desert.
After a few weeks I leave the Atacama again and set my feet on a much wetter place on the Northern edge of Patagonia: Isla Grande de Chiloe. After a few night's rest and 24 hours of non-stop rain in the capital Castro I set off. With my Apidura bags strapped on the frame and a massive roll of cookies to feed me I am on my way towards Quellon on the southern edge of the island.
Ruta 5 Sur, better known as the Pan-American Highway, terminates here. But my journey is just about to begin. A ferry takes me east across the Pacific Ocean. And as the sun sets the snow-capped top of Volcan Michinmahuida disappears slowly in the pink sky. Two hours later I set my feet (and wheels) onto the Chilean mainland again in Chaiten.
From here my adventure takes me northbound through Pumalin Park, a fascinating nature reserve with fjords, temperate rain forest and impressive volcanoes. The total opposite of the Atacama, but equally impressive. The park, opened by North Face founder and philanthropist Douglas Tompkins, hosts some of the most active volcanoes in the country, among them Chaiten.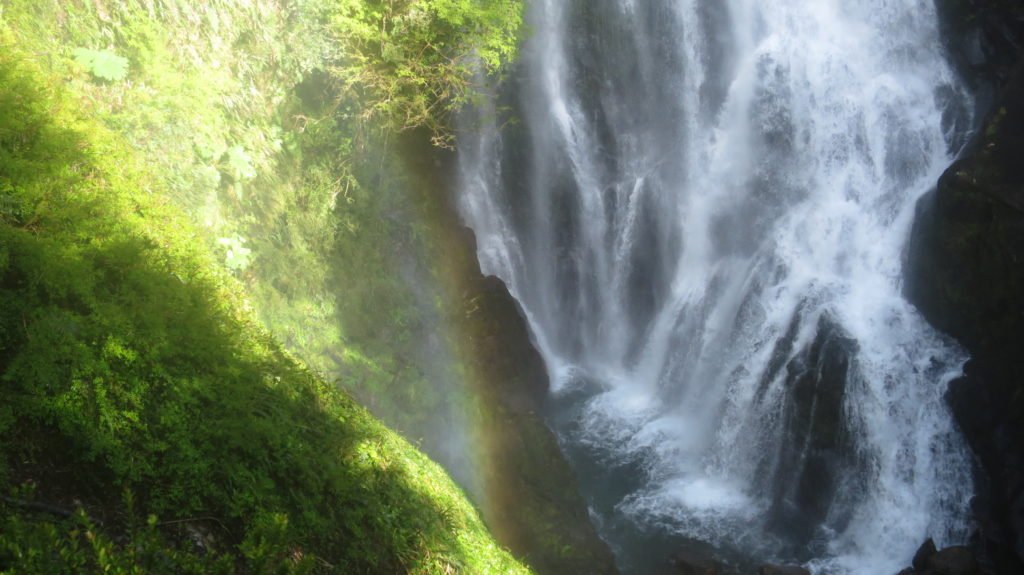 I hide my bike in a bush and hike up to the crater, and I can only imagine the carnage when it last erupted in 2008. The landscape on the upper half of the trail is dominated by dead and fallen trees. From the top I can see the caldera floor with two wonderfully blue lakes on the north side of the lava dome. As the desert a few weeks earlier, this is a dream-like landscape.
Not long days in the saddle, but a curious mixture of hiking, admiring and cycling dominate my ride on the northern Carretera Austral, Ruta 7. The road runs for 1,240 km from Puerto Montt to Villa O'Higgins through rural Patagonia. Construction of the highway commenced in 1976 under the dictatorship of Pinochet, and it is often referred to as one of the best bikepacking journeys in the world. The areas it traverses are sparsely populated. Despite its length the highway only provides access to about 100,000 people, a paradise for cycling.
The facilities for camping on Lago Negro, my stop for the first night in the park, are as stunning as the scenery I pass through. One of the campsites even has cold showers. The end of November is still low season, so I have most places for myself. In the early hours of day two I hike up to two impressive waterfalls, Cascada Baja and Cascada Alta. In the middle of the temperate rainforest the amazing beauty of the landscape unfolds in front of me, when the first rays of sun break through the dense forest. From here it is a short but demanding ride on rough gravel to Caleta Gonzalo, from where a seven-hour ferry and bus journey through an impressive fjord takes me to Hornopiren. Here the gravel shortly turns into tarmac again.
This is where the dust settles. After four days on the road I finish my adventure the next day in Puerto Montt, and I can only imagine what the southern part of the route looks like. I will hopefully be back soon and find out. A country of stark contrasts and a paradise for cycling: There are very few countries in the world that have impressed me as much as Chile did.
Markus Stitz
Markus will talk about this and other adventures in South America on Thursday 2 May in the Green Jersey in Clitheroe, on Saturday 11 May at Oban Distillery (as part of the Oban Sportive) and on Thursday 8 June 2019 at Eastgate Arts in Peebles. More information and tickets are available on www.markusstitz.com/talks.
Yellow Jersey's bicycle insurance will insure your bicycle for bike packing adventures worldwide, while cycle travel insurance will ensure that you have the appropriate cover should have an accident and require medical help while cycling overseas.
The post A bike packing adventure in Chile: When the dust settles appeared first on Yellow Jersey.
Go to Homepage
Bike Luggage Charges For Air Travel Infographic
Bike Luggage Charges For Air Travel 2019
Bike luggage charges can be a pain. Every airline seems to handle bicycles in a completely different way, and charge completely different premiums to carry your bike box.
There are very few things that I get more excited about than escaping for a long weekend away with my bike. Rebuilding my bicycle halfway up an alpine mountain is a luxury I wouldn't give up easily. I might be staying in the cheapest hotel for miles around, but with the local roads, trails and cafes to explore, I'm not planning to see a whole lot of it.
Ryan has looked at maximising your cycling time on a family holiday (not something I've ever had to worry about), and we've talked about how to ensure your bicycle survives its trip with the airline.
Bike Luggage Charges
Where I begin to lose my mind, is trying to book my bike onto the airline. There are dozens of airlines heading to the popular destinations, and if you're savvy on the price comparison sites, chances are you'll be using different companies for the outbound and return journeys.
Each airline treats bikes and sports equipment completely differently. Some will include your bicycle in their checked baggage allowance, others will always charge you extra. There is no consensuses over how heavy bike bags for air travel should be, and none of this information is easily accessible on their websites. How does British Airways sports equipment differ from an Easyjet bicycle booking?
A few common themes popped up when we were researching this information:
E-bikes are typically not allowed, as the lithium battery is listed as a dangerous or prohibited item by many airlines.
It's best practise to book your bike onto your flight in advance, not least because it's more expensive to add your bike at the airport. Given that space is limited in the hold, there may not even be room for your bike if you leave it until the last minute.

Most airlines only provide minimum compensation in the event a bicycle is damaged. Our Bicycle Insurance can provide complete cover for your bike while it is in transit. Our Ultimate tier Bicycle Insurance will even cover your bike box at the same time.
And if you're riding abroad, we also provide Cycle Travel Insurance to cover the costs of emergency medical care and repatriation if you injure yourself riding, on top of all the usual things you would expect from standard travel insurance.
The post Bike Luggage Charges For Air Travel Infographic appeared first on Yellow Jersey.
Go to Homepage
Find the perfect trip with Cycling Holidays by Yellow Jersey
A quick Google search for the term 'cycling holiday' offers up 220 million results, with "mountain bike holidays" providing 107 million and "triathlon holidays" 14 million results respectively.
Even tailoring your search down to, for example, "Mallorca beginners training camp" leaves you with over half a million results. So whilst being spoilt for choice should be good news, how on earth do you know where to start? And more importantly, how can do you know if they are any good? How can you be sure that it is going to offer what you are actually looking for or is it just a large tour operator adding "cycling holiday" to sell a trip because there is a bicycle hire shop in the resort?
Trying to find the perfect holiday by trawling the depths of Google is frustrating and inefficient. We just want all the best options, all in one place where we can also see what our peers thought of it.
Enter, Cycling Holidays by Yellow Jersey.
The aim of Cycling Holidays is to offer a carefully tailored, genuinely useful resource for people looking for their next cycling or triathlon holiday anywhere in the world. The site is a database of independent tour operators, all of whom have been approved by us before their listing has been added. People can then read the helpful feedback that other users have left. At present we have over 300 listings and this number is growing every week.
As a site user you can search by discipline, location and rating to help narrow down your search. Then create a list to save your favourites and add notes as you go.
For the holidays you have already taken, leave them a review. The rating system is another standout feature of the website as we know, and value, the importance of honest customer feedback. With shared passions come shared priorities for a holiday – we want to know about the expertise of the coaches, the quality of the roads and the suitability of the bike facilities. Sharing your feedback helps other visitors feel confident in seeing through the marketing and buzzwords to find the right holiday for them.
And if you are an independent tour operator, we'd love to hear from you too! Chances are we may have already created a listing for you as we liked the look of your holiday. If we've not discovered you yet, you can submit your listing and invite your customers to rate their past holiday experiences. According to Trip Advisor, nearly 90% of travellers say reviews are influential in choosing where to book.
So where's the catch? Well, there isn't one. We don't charge users to create an account, nor do we charge anyone to list their holiday on our website. Smaller, newer companies rarely have the resources or budget to make it onto page 1 on Google but just think of all the hidden gems you could be missing, especially if you're one of the 75% of people who never scroll past the first page of Google search results. We want this to be a genuinely helpful website to save you time and confusion with booking your holiday. All the information you need in one clear place, with real guest reviews that address what matters to you.
What are you waiting for, visit Cycling Holidays by Yellow Jersey and find your perfect trip today.
If you are setting off on a cycling or triathlon holiday, Yellow Jersey offer bicycle insurance and cycle travel insurance to cover you and your bike for your holiday.
We'd love to know what you think so please email us at [email protected], or leave a comment below if you have any feedback!
The post Find the perfect trip with Cycling Holidays by Yellow Jersey appeared first on Yellow Jersey.
Go to Homepage
Carbon bike repair, fact or fiction?
Go to Homepage