Guest Article: The Tabor Trail (60s Bikeway) and a safer NE Halsey
Terry Dublinksi-Milton is a Portland resident and dedicated neighborhood activist and transportation reformer. Last summer we shared his call to create an active transportation network in southeast.
I have worked on and critiqued multiple bikeways over the years and though a smaller bike project than many, I have a personal attachment to the NE 60th and Halsey Improvement project. This project is in my neighborhood of fifteen years and has its own history nearly as long.
That's why it's so important for me to get it right. Before I share my concerns on the project and feedback for how to make it better. Here's a brief look in the rear-view mirror…
60th Avenue Station Plan (2007)
A series of outreach meetings in 2006-2007 developed the 60th station plan that proposed significant changes to local access, bikeways, and MAX light rail. Routes in the plan included NE Hassalo/53rd to 61st, 61st to Sacramento north, and Oregon/63rd to Davis south. For reasons lost to planner history, it was not adopted by council; but the bikeways made it into the Bike Plan for 2030 which was adopted in 2010.
Comprehensive Plan (2014-2017)
As Land Use & Transportation Chair chair of North Tabor Neighborhood Association I helped resurrect the 60th Ave Station Plan and through multiple outreach meetings moved the Tabor Trail to 62nd, extending it south to Mount Tabor Park. NE 61st remained, but a bikeway connection west to 47th, Providence Hospital and points further was added to the Comprehensive Plan.
Growing Transit Communities (2017)
In this refinement of the station area plan, the local access road building was removed in favor of a Vision Zero-compliant Halsey Blvd. The Tabor Trail remained on the same route outlined throughout the comprehensive plan.
Despite this long history, all it took was one community ride-along where a few people expressed discomfort with the hairpin turn at NE 61st (circled in red in graphic at right) caused PBOT to move the climb up Alameda Ridge to 60th. An engineering solution to 61st was not even suggested, thus this meandering alignment suddenly became the current proposal (outlined in yellow).
PBOT's new route introduces two turns, requiring one to go west, then east, to go west.
Will a student from Madison High follow a route like this to the Waterfront?
While it's the cheapest to build, plans for NE 60th offer no protection for bicycle users other than sharrows and speed bumps. While 60th has an average daily traffic (ADT, a stat that only includes car drivers) count of 1,040, 61st has only 400. The way I see it, PBOT is using bicycle riders to calm driving traffic, instead of diverting them away from the route to maintain a quality bikeway.
Another option would stay on 60th from the MAX station the entire way north (as PBOT proposes for just a few blocks in their current plans). Parking would be completely removed and replaced with a two way cycle-track and significantly wider sidewalks than proposed.
This second option has the benefit of being the most direct and predictable up the ridge for cross-traffic but provides no significant protection for the ascent. Option 2 requires a complete redesign of the NE 60th/Halsey intersection and removal of the center turn pockets. These center turn pockets are what requires the segment from Hassalo to Halsey to be moved to 62nd for queuing. The traffic lights were rebuilt last in 1984, do not allow for leading pedestrian intervals (LPIs), and are required to properly time the 57th and 60th signals which should speed up the 71 bus line.
This is by far the most expensive choice. It prioritizes walkers and bicycle users, but it also creates delays for transit and car users.
The final and original route follows a low volume 61st from Halsey to Sacramento. The main fear is the 10 mph hairpin switchback with poor sightlines.
To safely engineer this troublespot we could remove rarely used westside parking and convert the northbound lane into a physically-protected bike lane. The descent would consist of a shared, low-volume lane southbound. The switchback would make the climb easier than 60th without growling cars menacing at riders from behind. The new traffic pattern would only impact 12 households and 150 average daily driving trips and would have vast benefit to the active transportation network. Moderate in expense, it would provide a direct route and the only truly protected climb up Alameda Ridge just in time to coincide with a newly rebuilt Madison High School. The sidewalk-free side could be striped with a walkway and the one-way would mitigate head-on collision risk between vehicles, thus providing safety benefits for all three traffic modes simultaneously.
The 2007 plan called for a bioswale (a planted curb extension to soak up rainwater) at 61st and Sacramento to narrow the intersection which could become a rest area with maps of the entire Tabor Trail. In the near-term, wands could be used to protect the lane. This would have the added benefit of narrowing Sacramento, thereby calming two greenways. A bike lift — like the one used in Trondheim, Norway — could even be added as this is the only climb up Alameda Ridge without curb cut conflicts.
Providing a facility for all users regardless of ability, a lift would be an amazing amenity and become a local attraction. If PBOT is serious about getting young people to bike to school, this is the type of creative infrastructure we need. In our age of climate crises, we must use every tool possible to lower emissions.
Portland's adopted plans make it clear that walkers and bicycle users are at the top of the transportation pyramid. This means new bikeways are to be protected when possible and direct even if it mildly disrupts single-occupancy vehicle users. In the case of NE 61st, we have an opportunity to improve safety for all traffic modes.
If you want to learn more, I'm leading a Pedalpalooza ride on Monday (6/17) to highlight the choices, investigate other proposed improvements and point to missing connections. PBOT representatives have promised to join us as we circle the station and climb the ridge.
Maxing Access to the MAX, a 60s Adventure
Monday June 17th 5pm, leave 5:15
Normandale Park, near the restrooms
60s Clothing Encouraged
The public comment period for the NE Halsey project closes June 24th, so let's use this opportunity to get it right!
See you in the streets,
— Terry Dublinski-Milton
Never miss a story. Sign-up for the daily BP Headlines email.
BikePortland needs your support.
Go to Homepage
PBOT begins design of 60s bikeway through North Tabor, Rose City Park neighborhoods
A 1.5 mile stretch of a north-south bikeway along the 60s will be built next fall and the Portland Bureau of Transportation is looking for your feedback on the design.

The bikeway proposed so far is in yellow and blue on the map below. It's only on 60th for a few blocks and uses 62nd for most of the route…
The main goal of the NE 60th and Halsey Improvement Project is to get Halsey off PBOT's High Crash Network list and update the outdated intersections at 47th, 57th and 60th. PBOT plans to reconfigure lanes and add new traffic signals that can synchronize traffic along the corridor. Another major component of the project will be the construction of wider sidewalk on 60th from the MAX Station (at I-84) to Halsey.
From a biking perspective, the big opportunity here is for bikeway improvements between NE Davis (in the south) and Sacramento (in the north). PBOT's initial plan is to remove on-street parking and remove bike lanes on two blocks of 60th between the MAX Station and NE Hassalo. Unfortunately the current plan would drop the bike lanes north of that and divert bicycle users two blocks east to 62nd. The route would rejoin 60th six blocks later at NE Hancock.

<!–
Thanks for reading BikePortland.
Please consider a $10/month subscription or a one-time payment
to help maintain and expand this vital community resource.
–>
<!–
Thanks for reading BikePortland.
Please consider a $10/month subscription or a one-time payment
to help maintain and expand this vital community resource.
–>
<!–
–>

Here's how PBOT describes the bike-centric elements of the project:
— NE 60th Ave from NE Hassalo to NE Oregon St: 5′-wide bike lanes with 3′-wide buffers to separate cyclists from the vehicle travel lane

— Portions of NE 60th Ave, 61st Ave and NE 62nd Ave: Sharrows, speed bumps, signage, and stop sign changes

— New bike crossings, crosswalks, and curb extensions will be installed at two intersections: NE 60th Ave x NE Oregon St and NE Halsey x NE 61st /62nd Ave.

— On-street parking will be removed from both sides of NE 60th Ave from the south side of NE Hassalo St to NE Oregon St, and within 20' on the approaches to each intersection along NE Halsey St, NE 60th Ave (south of Halsey), and the 60s Bikeway neighborhood greenway route.

— A new Bike Facility Route will be added to NE Hassalo St from NE 53rd Ave to NE 60th Ave. Improvements will include sharrows, speed bumps, signage, and stop sign changes.
Below is the proposed design of NE 60th crossing at NE Oregon:

And the new bike lanes proposed for 60th between the MAX station and Hassalo:

If you ride, work, or live in this area, please consider sharing your comments and concerns with PBOT via their online open house. They'll accept comments through Monday, June 24th. Questions about the project can be directed to PBOT Project Manager Nicole Pierce via email [email protected] or (503) 823-6186.
— Jonathan Maus: (503) 706-8804, @jonathan_maus on Twitter and [email protected]
Never miss a story. Sign-up for the daily BP Headlines email.
BikePortland needs your support.

<!–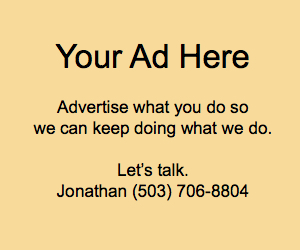 –>


Go to Homepage