COSWHEEL A-ONE X 30KM Foldable Electric Scooter Portable Mobility Scooter Adults electric bicycle
Color: silver,space grey
Material: aluminium alloy
Battery:18650 Li-ionBattery
Batterycapacity:8.8Ah
Max Speed:35km/h
Mileage:30km
Dimension:
Folded:38*20*116cm
Unfolded:120*57*89cm
PackingSize:131*51*28cm
Max load:150kg
Max gradeability:15°
Chargingtime:4-5h
Note: speed need to be adjusted in the app for faster speed, and its defult speed is within 20km/h; Search coshweel in app market, which is available in Android and Apple phone both.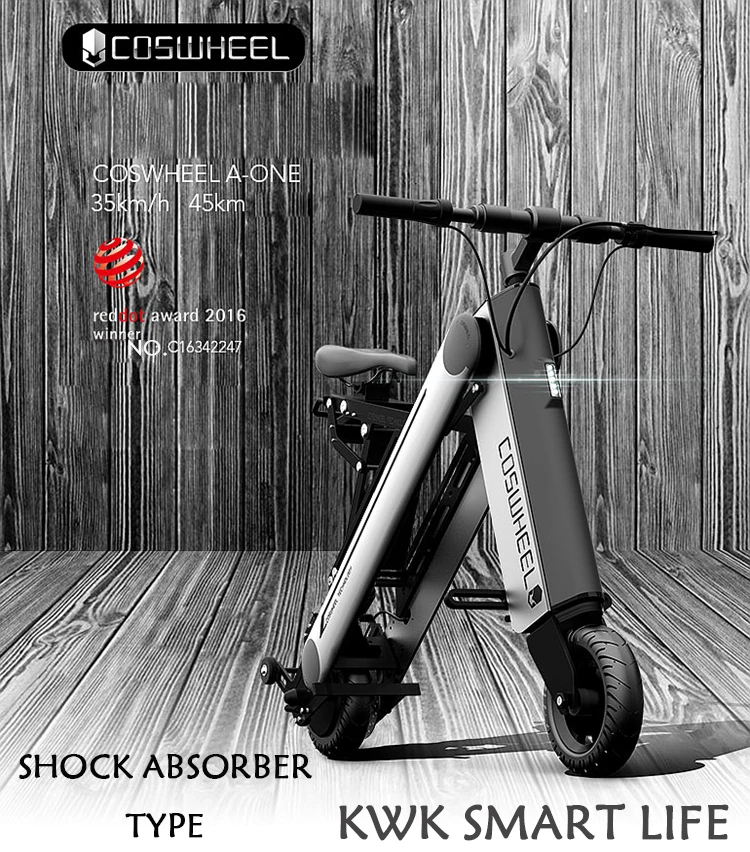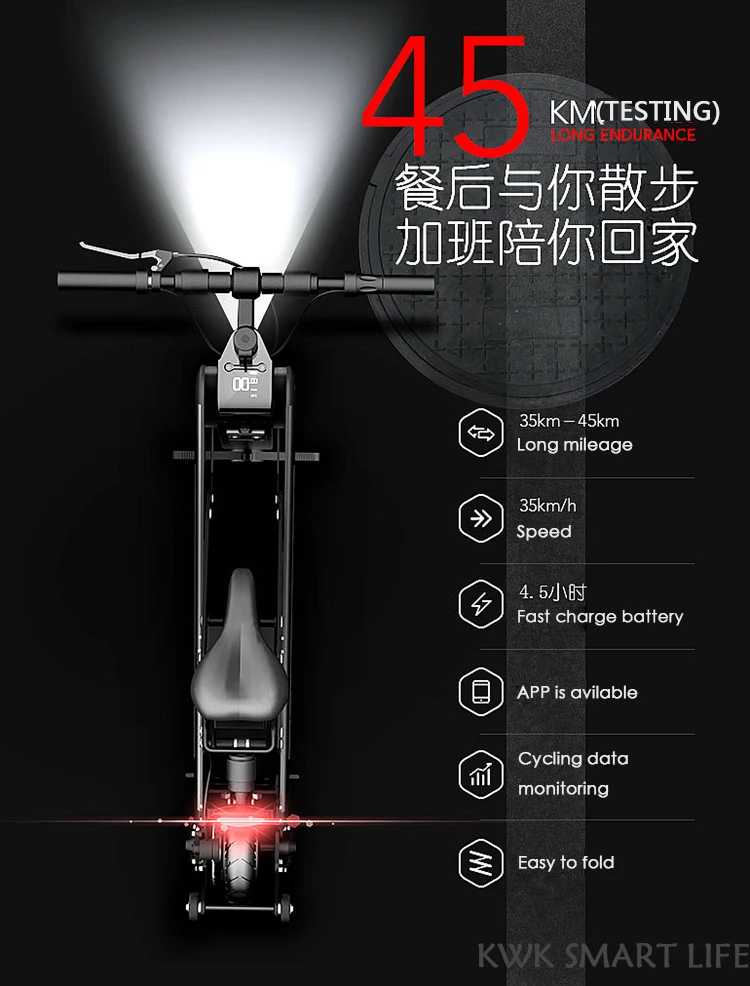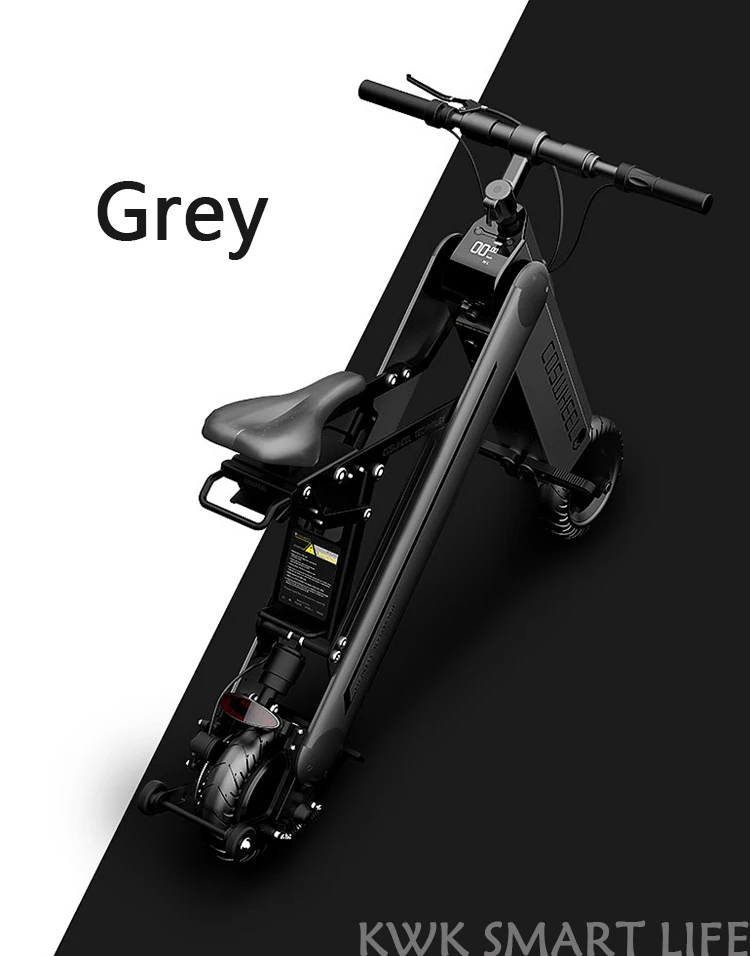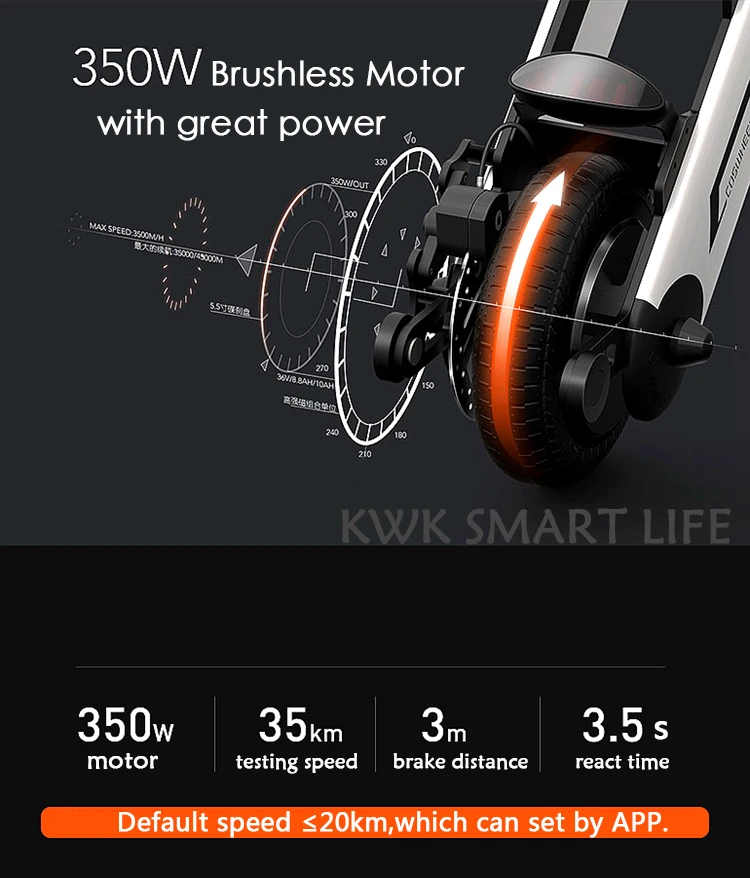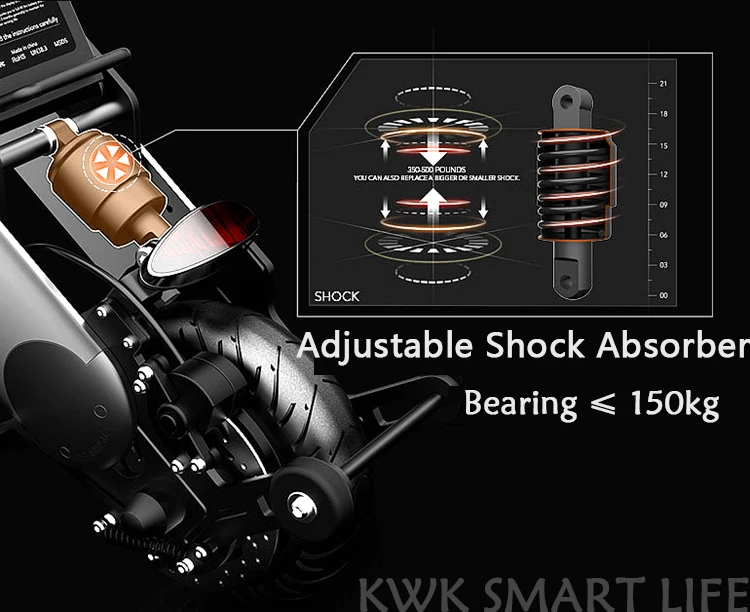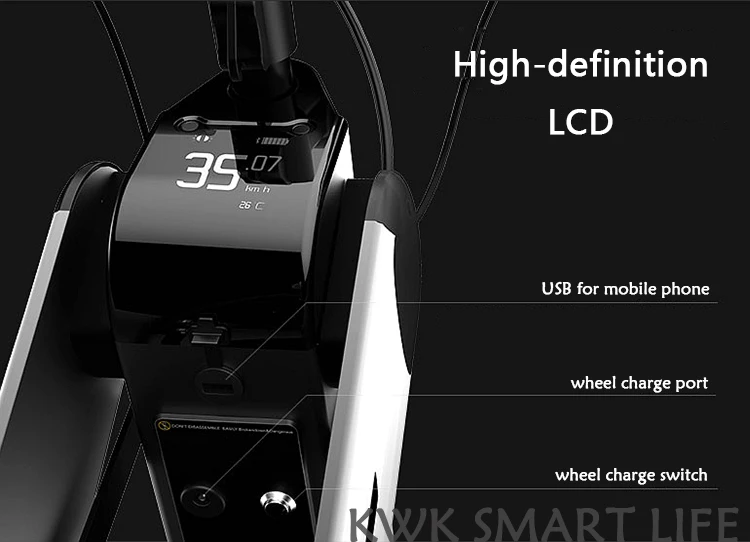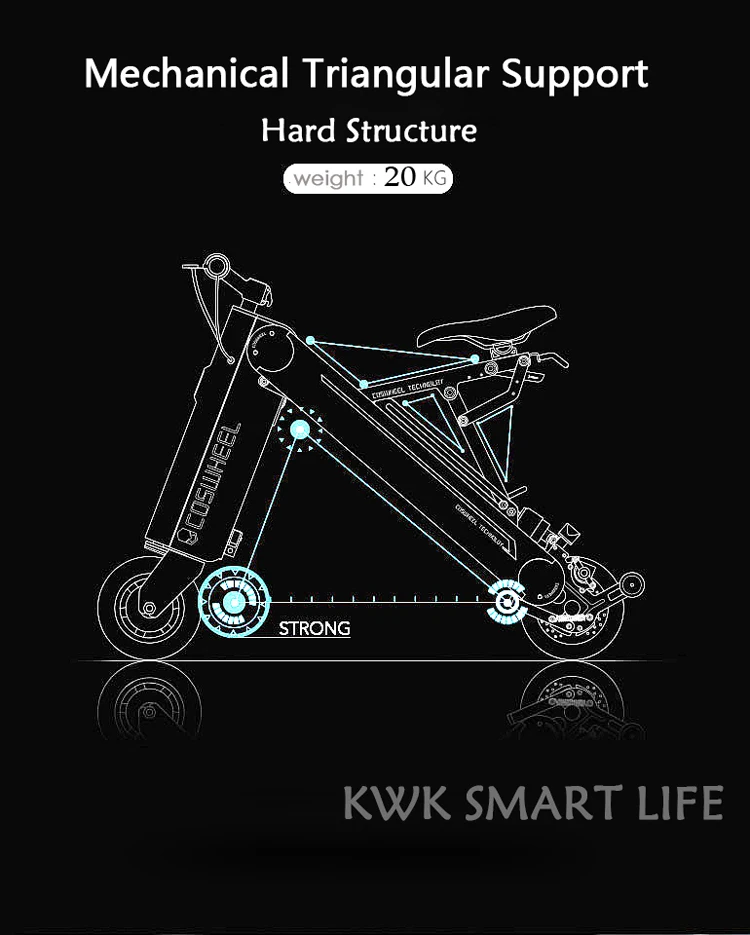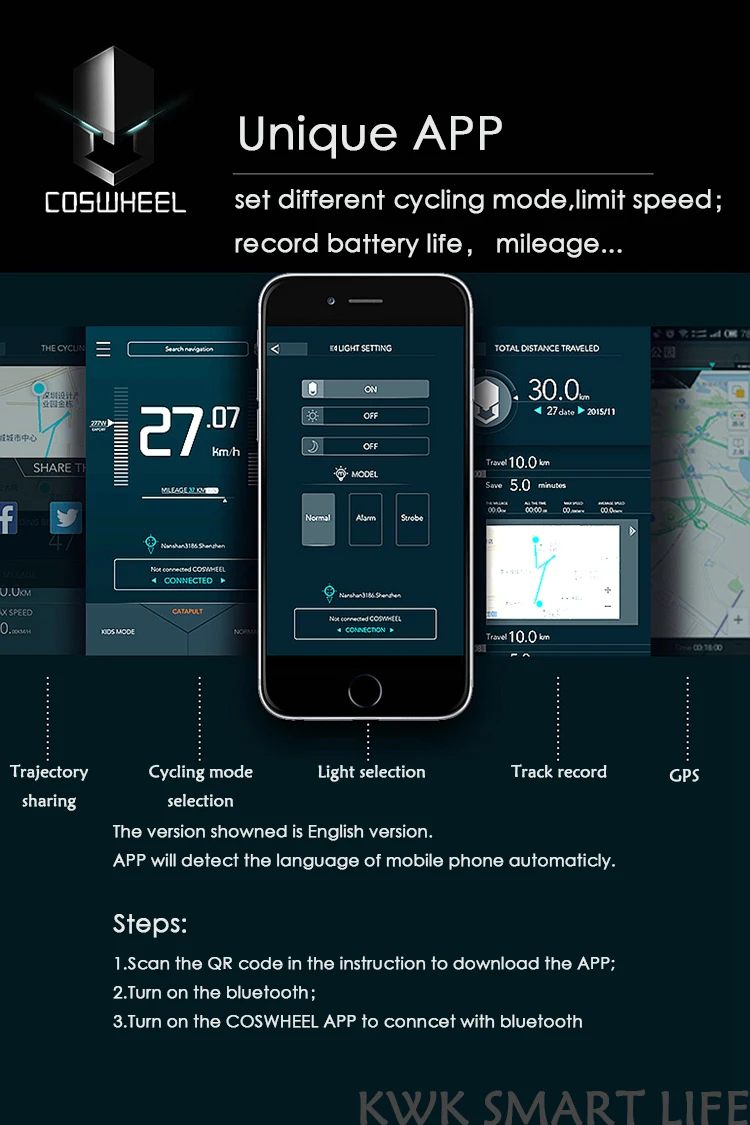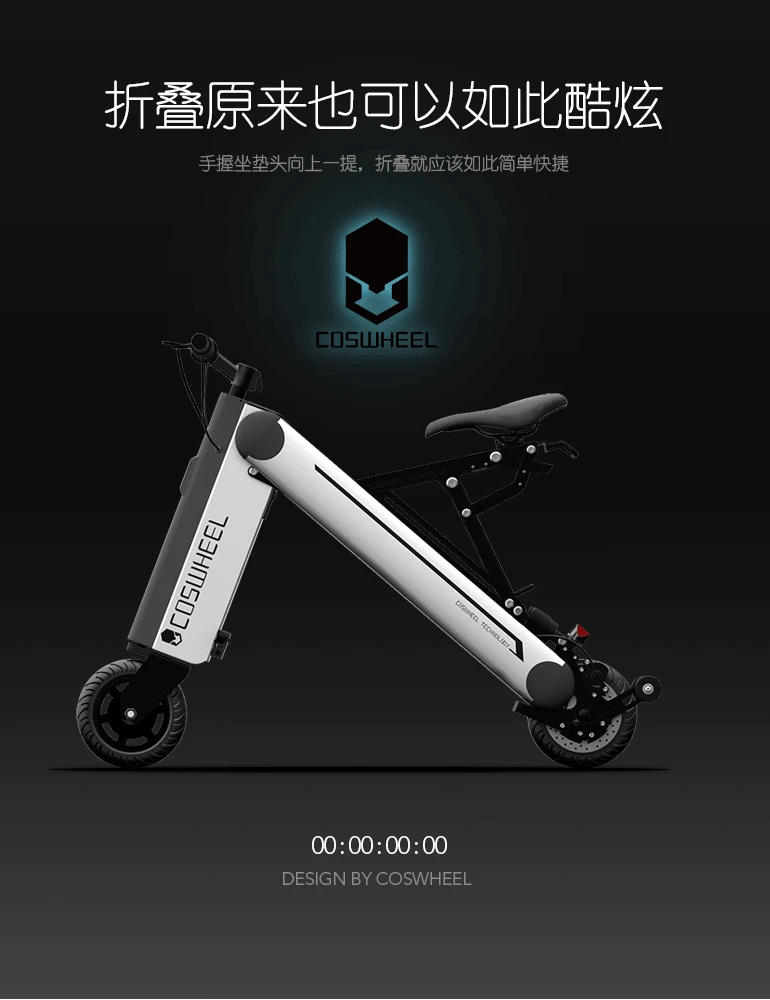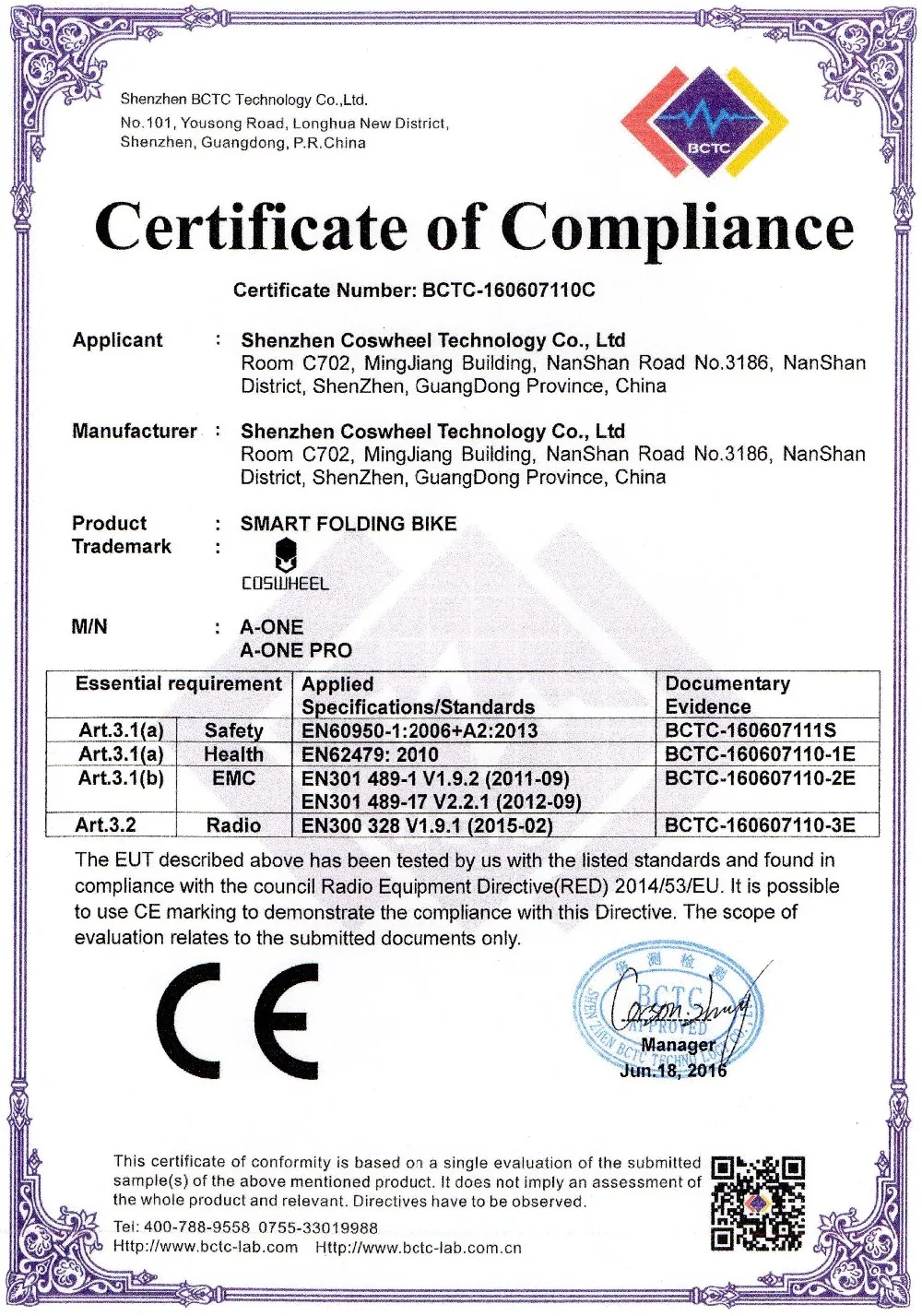 Product Tips:
1. Don't put the electric Scooter under the rain, when you don't use it. Also don't swim it the scooter in the water puddles, and protect the charger port from any water entering.
2. Over charging the battery in first 3 times chargings to use the full capacity of the battery.
3. Don't ride at high speed on crowded street, and wear protector when riding. Also follow your local law when using the electric vechicle.
4. We advise you turn off the light before turning off the scooter, and turn on the light after turning on the scooter if there is different switch. Some model the vechicle can't be turned on when the light button is pressed on.
Battery Tips:
1.The lowest working temperature for full discharge is 15℃. When the temperature is getting lower, the discharge current gets lower, and the mileage would be much shorter.
2.When battery capacity is in low level, which is less then 20%, please charge it on time.
3. Don't charge the battery outdoors when temperature is lower than 0℃, which would be fail.
4. When the temperature is lower than -20℃, scooter can't work any more as the lithium battery is dormant.
5. Do not keep lithium battery under -20℃. Put it in a warm room if possible.
6. If you don't plan to ride the scooter in very long term, please charge battery till its capacity reaches 50%-80%, and remove it from the scooter. Keep the battery in dry condition and charge it once per month. we would choose faster shipping way but sometime there is limited selecting options duo to the IATA policy to lithium battery, so we would use some special line for transportation. *unavailable area for delivery: 1. Hawaii area of the USA, Alaska Area of the USA 2. Canary Islands of Spain, Melilla of Spain, Balearic Islands of Spain 3. Faroe Island of Denmark 4. And other islands which is remote and far from its mainland cities (There is a better choice that you can place your order with a transfer address on the mainland and you can fetch your package there. Check before order.) *We now can send elelctric scooter to Brazil. *HK UPS: We can deliver the electric scooter, whoes weight is within 30kg, to Canada, United States, Puerto Rico, Belgium, Switzerland, Norway, Andorra, Liechtenstein, Monaco, San Marino and Dominican Republic by HK UPS as a faster delivery. but for some remote city and area of Canada and Norway, we may can not deliver it, so pls kindly check with us before order with your detail address and postal code zip code. Also there may be tax happen by HK UPS, and need your assistance for custom clearance. *For Russia: The shipping time would be within 20 days for Moscow and Saint Petersburg, and 20 to 30 days for most other cities. But it can take 30 to 40 days if the area is very remote, and Kaliningrad area can even take 45 days around in some extreme case. Count the shipping time before you order it especially we know the summer in Russia is shorter to enjoy electric scooter. *For South America: there would be tax happen in most South America, and the custom clearance and tax would be the buyer's responsibility only. For South Armerica, we can't promise anything about the final tax and custom clearance process. *Tax free list for electric scooter by special line: USA, Canada, Mexico, Russia, UK, France, Germany, Italy, Holland, Belgium, Luxembourg, Denmark, Ireland, Greece, Portugal, Spain, Austria, Sweden, Finland, Poland, Hungary, Czech, Slovakia, Slovenia, Estonia, Latvia, Lithuania, Romania, Bulgaria, Singapore, Malaysia, Thailand, Vietnam, South Korea, Australia, Japan, UAE, Saudi Arabia, Iran, Kazakhstan, Belarus with special line from us. For other country, in order to ensure you receive your order with tax free or lower tax upon import, we'll declare a lower value. If any import charges or fees are the buyer's responsibility. *Guarantee for Electric Scooter and Electric Bike (also notice for dispute, except some special model with extra policy) In case there is quality problem, not caused by human, some outer force damage, accident or water entering, we can give the guarantee for different part like below: Offer 6 months guarantee for the metal battery cabinet including the deck if there is any crack or broken in condition of normal use within the loading weight we stated. Offer 6 months guarantee for battery, controller and motor; Offer 3 months guarantee for LCD (odometer). We don't offer guarantee for tires, fenders etc in the normal using as they are consumables with varied condition of different user. IF the client received the scooter with broken part, we can send the spare part free to buyer. For quality problem, we encourage the buyer talk with us detail before dispute to get the real solution from us. IF the client has argument and complex situation, we shall try to help him out by our source and cost, beyond the guarantee policy. We will also give credit and honest buyer extra service and support. We shall protect the consumer right, and block malicious dispute buyer. We will establish wealthy mutual reliable relation between the seller and buyer to make long term ecosystem in our store. * In most electric product delivery, we would use right plug for you, and add one charge adapter in case. * Watch out the battery from water, which will damage the battery to destroy the electric product. * Endurance and speed will be varied according to bearing weight, road condition, and temperature.